Chicago Rockhouse.
Serious Fun!
We have been building our band and image for almost two years. When Chicago Rockhouse was being built, one thing was absolute – no compromises on quality or sound were acceptable. From song choices, to our state-of-the-art equipment, our goal with Rockhouse is to be one of the best bands in Chicagoland, and beyond.
Now that our first live show is done, and our first live videos are released, you can see first-hand what we offer.
To read a complete bio of Chicago Rockhouse, click here to visit our regular website.
Entertaining Songs =
Fun for all.
Our typical setlists are designed to give something interesting, for most any music fan. We are mixing some classic rock gems, along with some more interesting deep cuts that will really showcase the level of musicianship that Rockhouse is capable of.
Great Bands.
Queen
Toto
Bon Jovi
Yes
Mister Mister
Def Leppard
Kansas
Dire Straits
Whitesnake
Skid Row
Rainbow
Queensryche
Police
Ozzy
The Cult
Dokken
and many more…
Songs other bands might shy away from, we hit head on. You and your crowd will not be disappointed. The sheer quality of our full production will bring all attendees to their feet. And, we're always family friendly, ready for any festival and all-ages shows that we play.
Social Activity
We launched our website and social media presence in the Spring of 2022 to great success. We are using our online marketing to build our fanbase as quickly as possible.
YOUTUBE CHANNEL
Our YouTube channel has been very active from day one. In 9 months we have enjoyed over 90K actual views to just our most current group of videos. We will continue to release videos regularly.
INSTAGRAM
We have started to build our IG account. Now that live shows have begun, we expect this to grow exponentially.
FACEBOOK
We will post and connect with all venue and events as dates become confirmed.
Recent Video Work
Our YouTube channel has been nothing but positive. In fact, we have fully embraced video and will provide our own professional video staff to record shows. We will then post to our social media channels to further promote our future shows at your venue. We can provide you with any photos and video files for your own social media channels. We want to be a partner with all our venues and festival clients.
Here are just a few direct quotes…
"Waiting to find out about future gigs. I'll gladly fly out from LA to see you guys live."
"Damn you guys straight up killed it. Wow I'm impressed."
"WOW ! Stumbled onto the channel few days ago. Musicianship is top notch. Insane lead vocals with pure & perfect harmonies. Great mix. Hats off to your sound engineer. Awesome work Chicago Rockhouse."
"Agree with what has been said. You guys are clean and tight. The entire band as a whole is great. I'm particularly impressed with how the vocalist can really reach down and accurately express the vocal characteristics of so many different vocalists and their respective styles. I am certain you guys have spent many, many hours working and honing your craft. Kudos."
Media for Promotional Use
Logo Files
Includes official logos in both PNG (with transparent backgrounds), JPG (with white backgrounds) and Adobe Illustrator (.ai) Vector formats. If you need something else, other sizes, formats, we can quickly supply you with any graphic file or format needed. Contact us.
Promotional Graphics
We can provide you custom graphics and ad graphics with your venue and/or event already highlighted. Please contact our marketing guru for help.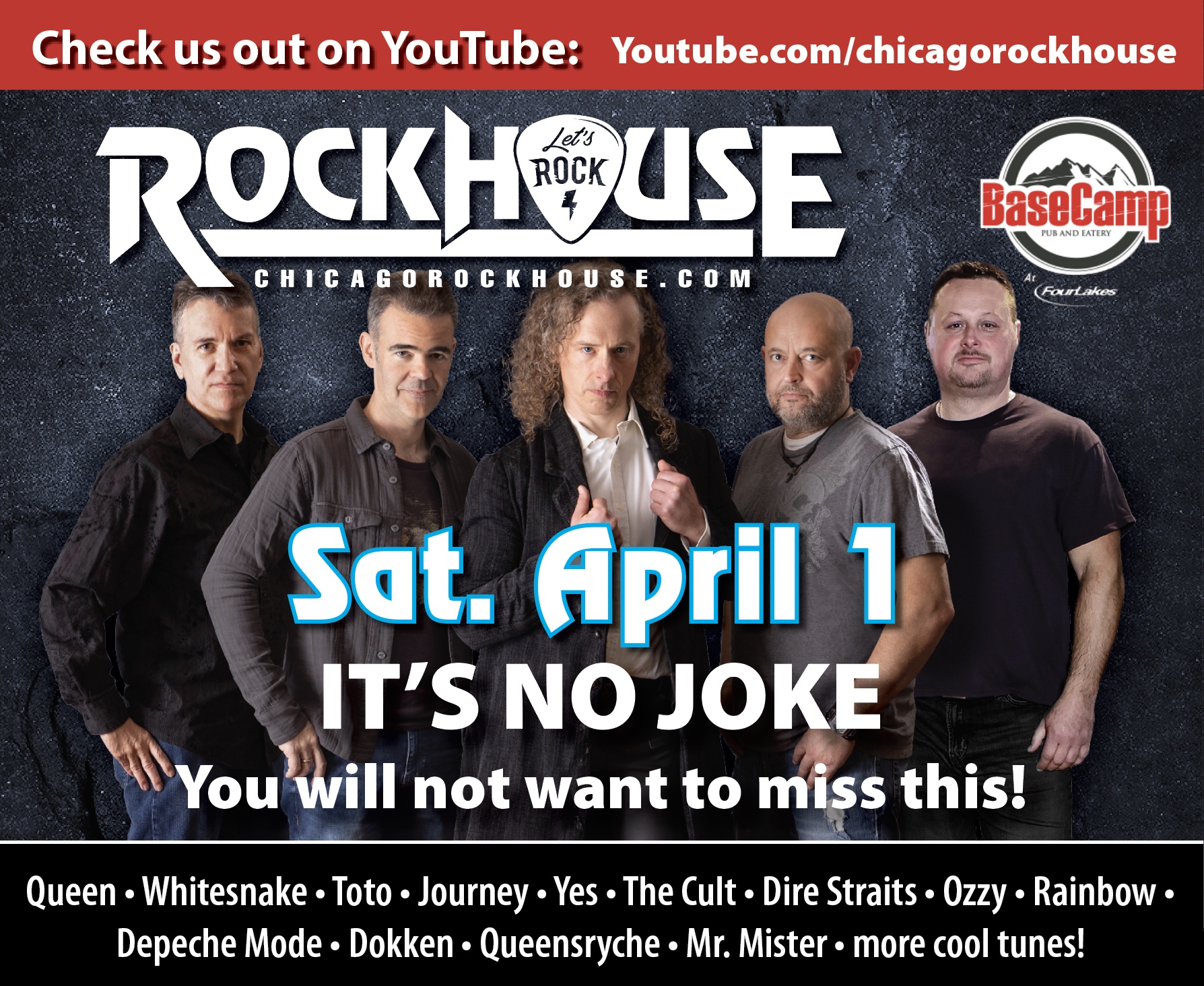 Monitoring and Technical Information
We use our own in-ear monitoring system for our monitor needs. We do not need any wedges or on-stage monitors.
We maintain our own 32-channel digital mixing rack that supplies not only our own monitoring needs, but a direct 24-output XLR cable drop that can go right into the stage snake.  Our direct XLR outputs include all effects and level balancing already intact, making getting a quality mix for us a quick and hopefully painless process. We take our sound quality seriously, and want to get the best sound for your customers if at all possible.
We do also bring some backline amplification and speaker cabinets for a minimal stage volume, but we keep levels very low as to not be a problem with any microphone bleed or feedback.
We will provide a clear, well-labeled chart of our input needs when we arrive at your venue, or before we arrive upon your request.
Contact Information
If you have any questions regarding current or future bookings:
Phone: 1 (630) 842-3551
Email: info@chicagorockhouse.com